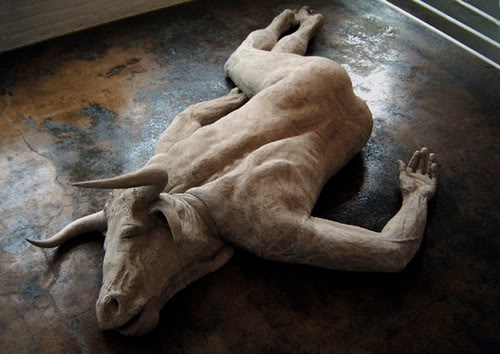 'The Minotaur'
'The Minotaur' was comissioned by Polka, London and Young People's theatre, Toronto. It was shortlisted for the Dora's and the Offie's
Kevin has written over 50 commissioned plays.
Many have been shortlisted for or won prizes.
Four of his plays are published by Aurora Metro. (The Iranian Feast, The Monster Under the Bed, The Bomb)
'The Monster Under the Bed' was selected by The Kennedy Center, Washington, as one of their best 25 plays over the last 25 years and is published in the book of that name.
In 'Best 50 plays for Young People' published by Aurora Metro Kevin has three plays: 'The Monster Under the Bed', 'Hidden' and 'The Bomb'.
'A Field of Blackbirds' – about a family fleeing from Kosovo – is published by Argraff in 'Playing Out'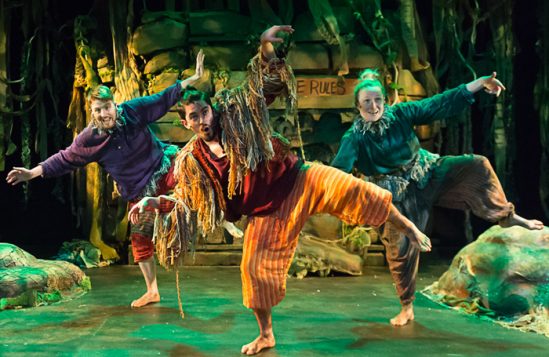 'The Minotaur'

Other plays include:
'Lady Chatterley's Lover' An adaptation of Lawrence's novel. ('Brilliantly imaginative' The Scotsman. 'Unquestionable integrity of purpose' The Guardian.'Beautiful, sensitive, imaginative' Time Out)

'Baghdad Zoo' for the York Theatre Royal, Dundee Rep, Polka and Plymouth Theatre Royal Playhouse project.

'The Bridge' for Dundee Rep.

'Thank God for Cod!' About the myth of man trying to catch the biggest fish in the sea. Includes deep-fat frying and feeding the audience.
'Brilliance' a magical play about the woman who brings electricity and light

'The Rime of the Ancient Mariner' A re-imagining of Coleridge's poem. Short listed for the Brian Way Award.
'Giving it Back' for BBC Radio Four.

'Driving Home For Christmas' for BBC Radio Wales.

'Gogo' and 'Tselane's Song' for Vulavulani Theatre Co (Soweto) and ATT.

'Till Death Do Us Part' Using the poetry and the performance of Neil Rollinson as part of the Arts Council England Live Literature Showcase.

'Angel', 'Night Train' (co-written), 'Generations', 'A Million Shades of Pink' (co-written), '12 Miles from Nowhere' (co-written) 'Scooter Race' (co-written) and more – for ATT.
Five large-scale outdoor plays for the Dukes Lancaster ('Beauty and the Beast', 'Jason and the Argonauts', 'Merlin and the Adventures of King Arthur', 'Robin Hood' and 'The Hobbit')
Four Christmas plays for the Unity Liverpool and ATT ('Rumplestiltskin', 'Princess and the Pea', 'Little Red and the Big Bad Wolf' and 'The Jungle Book')
His plays are distributed in North America by Plays for Young Audiences.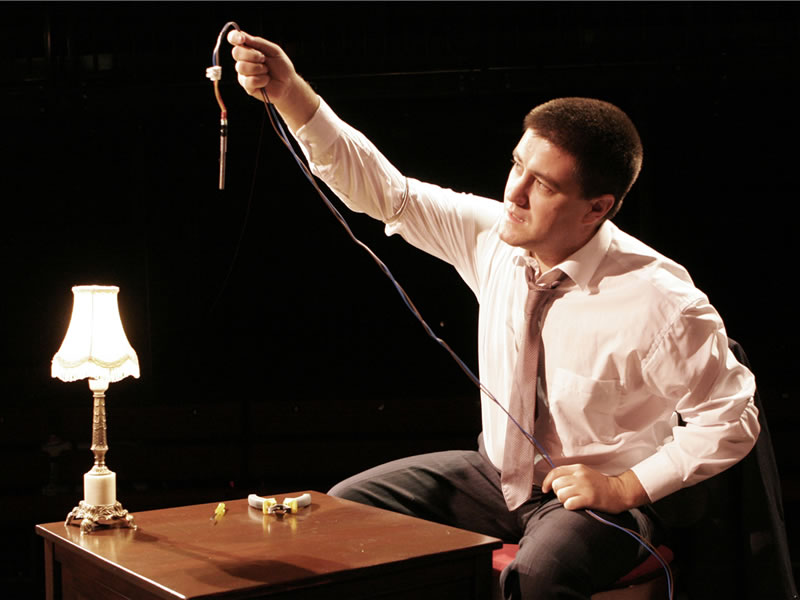 'The Bomb'

Kevin Dyer is the Associate Writer at Action Transport Theatre.

He works as a dramaturg and leads inspirational sessions for writers and people who want to write.
'The Monster Under the Bed' won The Writers' Guild Best Play for Children and Young Audiences Award and was also shortlisted for the Brian Way and John Whiting Award Awards.
"A play is like a table; it has to have four legs and a flat top and it must not wobble. It has to be sturdy, so that if you put a full pint of beer on it you don't spill a drop. Or if you put an idea on it, or a metaphor, or a character stuffed with colour and hope they don't roll off before we can share precious time with them."